What To Look For In A Web Designer In Detroit, MI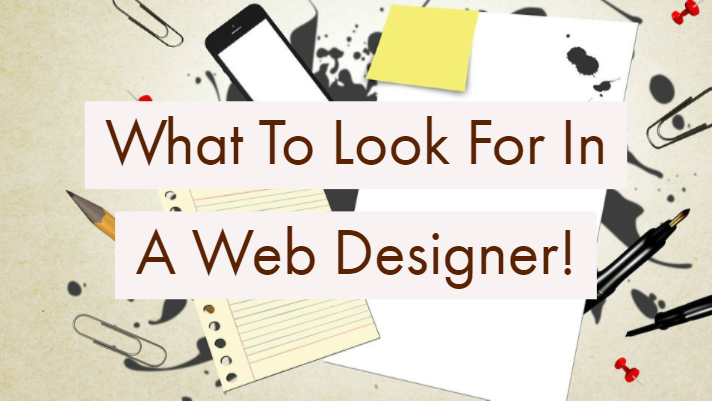 So, you're a business owner and you're saying to yourself "I need a website designer." That's great because for your business to thrive in today's world, you need a website for your customers to find you.
However, you might lack the skill and resources to build it on your own, so you have decided to start searching for a web design company in the Detroit area!
The only problem is, how do you choose between the wide variety of web builders in the Detroit area? Well, our experts are here to tell you what to look for in a web designer:
Idea Collaboration
You and your Detroit web designer need to be able to work together as a team.
Before you even hire a website designer to begin developing your website, you probably already have some ideas in mind on what you want your website to look like, how it should work and its overall purpose.
One of the best qualities of a good web designer is their ability to collaborate with their client. You obviously have a vision and need it to come to life. A good Detroit web developer can take your vision and add their own personal touch to it, resulting in a collaborative, beautiful and effective website.
Portfolio of Work
A good web designer in Detroit will have their work on display for you to see.
Before hiring anyone to design your website, you clearly are going to want to see their previous work. Most web design companies in Detroit will have their projects on display somewhere on their own website. When viewing their portfolio, see if the work they produce is aligned with your vision.
On a side note, you should also search to see if the web developer has examples of mobile and tablet work in their portfolio.
Experience in the Industry
A web designer with a lot of experience is the company you want designing your Detroit based website.
Experience is a broad term and we are talking more along the lines of longevity. The fact is that a web developer in Detroit that has been around for some time is a good indicator that their services are effective and people like their work.
The number of clients they have is also a good indicator of the amount of experience they have in satisfying their customers.
Range of Clientele
You want a Detroit web design company that has worked with a wide range of clientele.
A good web developer doesn't have a "one-glove fits all" mentality. Different industries require different types of websites, and you want a developer who has experience working with clients who understand multiple industries. This shows they have the capabilities to adjust their work across multiple visions. They will be the ones who can deliver a website tailored to you.
Turn-Around Rate
Choose a web design company in Detroit that can get the work done in a timely manner.
As a business owner, you want results right away. Now, it is unlikely for a website to be made and launched overnight. However, your hired professional should still be able to have your website ready and launched in a little over a month (if it was done correctly).
In general, there should be a time frame for when your website is delivered. You need a web developer that can set a deadline as well able to make any adjustments, or changes in a timely manner.
Other Areas of Expertise
An expert web developer in Detroit should be able to do more than just build you a website.
If a web design company only offered web building services, they probably wouldn't be in business very long. A good web developer will have other areas of expertise that can enhance your website even after it is launched.
Other areas of expertise good web site developers typically have are SEO knowledge, SEM knowledge, digital advertising knowledge and other digital marketing expertise.
Know How to Convert
Most websites have one purpose, that is to convert.
From generating sales leads to getting someone to sign up for a newsletter, you need a web developer that can build your website with conversions in mind. A good web developer should be designing your website with the goal to facilitate conversions.
That means they can build fully functional forms, they know where to place certain features and can keep your visitors on the website long enough to get them to create a conversion. And this isn't done through the developer's opinion. This is a data-driven implementation and a good designer knows that.
Responsive Website Design
User experience is crucial, so you need a website that works across all devices!
Web responsiveness is the best way to design a website these days. That is why you need to choose a web design company that is well experienced in responsive web design. A company that can build your website so that it is fully functional across all devices, desktop, mobile and tablet.
Website Design Trends
The web developer's work should correlate with the latest design and technological trends.
You want a web design company that stays on top of the latest trends, design elements, design principles and features. Most customers tend to trust businesses that stay modern with their site design and usability. So, your web designer should have a balance between knowing what works and what's the style of the cut and use those two factors to create a website for your business.
Detroit Web Designer Questions to Ask!
Now that you know what to look for in a good web developer, there are some common questions to ask.
Here are 10 common questions to ask a web designer before signing the contract:
How long have you been in business?
Do you have any other areas of expertise?
Do you offer any other services that may benefit my business?
Regarding website development, what happens after launch?
What is your turn-around rate?
How much will the new website build cost?
What is your design process?
What is your conversion strategy?
Do you have a portfolio I can view?
What is your experience in my industry?
Executive Summary
Now you know what you should be looking for when deciding between web design companies in Detroit, MI. Do your own research and make the best decision that you believe will benefit your business.