At Detroit Website Design (DWD), we fully understand that eCommerce business is growing day by day.
Emarketer, a leading research firm , estimates that worldwide retail e-commerce sales will increase from $2.290 trillion in 2017 to $4.479 trillion by the end of 2021, equating to 16.1% of total retail sales. [Pro-Subscribers can read the whole article]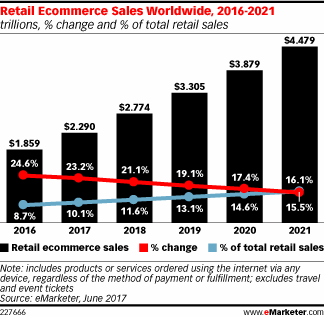 So, no matter what your product or service is, there is a customer out there who needs it. Reaching them depends on the message you communicate and how you present your product. That is what we are here to help you with.
Here at DWD, we take care of everything for you. DWD is an integrated digital service provider that drives customers to your online store and guides them through their shopping journeys.
How Do We Do It
Working with DWD opens your business up to a massive digital marketplace of online customers. We can build you a new site or migrate your existing site to one of the world's most advanced and up-to-date eCommerce platforms.
At DWD we understand that with more sales comes more revenue, which is why we've chosen to specialize in eCommerce. eCommercewebsites consistently reach new customers and help your business retain existing ones, allowing you to break through the limitations of a physical retail store.
Not only can we help you with building and optimizing your eCommercestore, but we also have a dedicated content SEO department that will help take care of all the SEO features for your new site, ensuring that your online store ranks with Google and other search engines.
We are a full-service marketing firm, that can meet all your marketing needs from website development, to SEO, to digital advertising and everything in between. Our team implements the most effective digital marketing techniques available and we always use the most up-to-date procedures and tools.
eCommerce platform/store Vs. Shopping Cart
First of all, lets clarify the confusion between an eCommerce platform and a shopping cart. Both terms are used to refer to an online store but there are some key distinctions you need to understand.
A shopping cart is simply the "basket icon" or "cart icon" on the upper right-hand side of your store's website. It is just one part of an eCommerce website and works as an online store's catalogue and ordering process. Typically, it is a company's website allowing consumers to select merchandise from a catalog and purchase it.
On the other hand, an eCommerce platform is a framework that is used to create a fully functional website where users can make online purchases. Simply it takes the traditional shopping cart and integrates it into an existing application to enhance the functionality of the online store and include all facets of a normal shopping experience. An eCommerce site is a shopping cart plus all the features that allow for inventory, order and customer management.
Building a shopping cart doesn't automatically mean you have an effective online business. It's similar to having a physical location in an unfinished building, that no one knows about. You're not going to make any money. No matter the what you're selling you'll likely need an eCommerce solution that works for your business' consumer base.
That is why we choose our eCommerce platforms very carefully. At DWD, we build your eCommerce store using an eCommerce platform that covers your business' needs and contains at least the following features:
Attractive and responsive mobile friendly design
An Easy guest checkout process
One page checkout
Secured payment gateways
Shipping to multiple addresses
Built-in search option
Performance
Speed
SEO friendly design
Displays recently viewed and compared products
Shows related products
Up-sells products
Cross-sells products
The ability to add to wish list + send wish lists by email
Fill products by feature
Advanced marketing techniques:

Coupon code & discount systems
Abandoned cart tracking
Email promotional tools
Product Q&A and review system
Integrated chat support

Easy Admin Panel

Catalog management
Unlimited product attributes
Advanced pricing rules
Share on Facebook button
Manage permissions
Bulk import/export
Easy and quick integration of third-party tools
Analytics and sales reporting
Which eCommerce platform should I use?
It depends on what your business does, how many items you're selling and what kind of customers you want to attract. Choosing the best eCommerce platform, whether for startups, small business or large corporations has always been the first and most common question we get when it comes to developing an eCommerce store.
In the past, we have discussed the different types of shopping carts, and their pros and cons. We always take these factors into account when building an eCommerce site.
Fortunately, DWD makes choosing a suitable eCommerce platform easy by taking into consideration your business's customers, needs and size. Our eCommerce platform checklist will give you a quick overview of the decisions that you will need to make when choosing an eCommerce platform.
What's the best eCommerce platform?
As previously stated, selecting the best eCommerce platform for your business is highly dependent on your individual business needs. At DWD, our eCommerce specialists have worked with most eCommerce frameworks, which means we have the necessary experience to evaluate your needs and help you choose the right one. If you're looking for a brief overview of your options, you can use any of the links below to get more information on some of the most common eCommerce platforms. Remember, you can always give us a call or schedule an appointment to discuss your eCommerce needs in detail.
E-commerce Platforms We Work With