Magento vs. Woocommerce – Choosing the Best E-Commerce Platform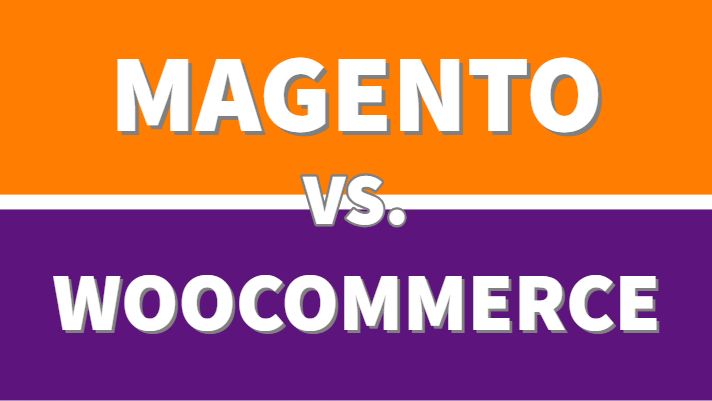 As a Detroit business owner, you might be thinking it's time to establish an online presence for your product lines and begin selling online.
Having a shopping cart on your website bridges the gap between shopping and buying and can be the leading tool in generating sales. That is why having an online store with all your product information can be crucial to the growth of your business.
For you to do that, however, you need a solid e-commerce software for creating the most effective online shopping cart. And one question we often hear is making a decision between Magento and Woocommerce. That is why we have researched and differentiated both platforms in order to help you choose which one is best for your Detroit business.
Magento vs. Woocommerce
What is Magento?
Magento is a popular e-commerce platform used by web development professionals. It is often used at the enterprise level and is tailored to businesses that want to use their online shopping cart as one of the driving factors for completing sales.
As an open-source e-commerce platform, Magento has a strong set of features giving you the ability to create an effective online shopping cart. As of 2017 Magento is reportedly being used on 250,000 sites.
What is Woocommerce?
The Woocommerce plugin is one of the many WordPress features that are available on the platform. As an open-source plugin, it allows you to run a fully functional and customizable online store for your Detroit business. It has all the features you need from an e-commerce platform. Woocommerce reportedly makes ups 30% of all online stores and is used on nearly 2,000,000 websites.
Magento Price
With Magento you have the option of choosing a few different additions. The most popular for small Detroit businesses is the Magento "Community" edition. This is free to use and is a solution for any small business looking to create an online store for their sales effort.
If you are an established business with a few stores throughout the Metro Detroit area, Magento Enterprise edition may be best for you. This is its premium package and offers an online shopping solution for a business that needs extra Magneto features and customizable options.
Woocommerce Price
As a plugin for WordPress, Woocommerce is free to install and operate. Of course, with WordPress you do need to pay for a host. If you aren't already paying for hosting, then WordPress offers hosting fees to run and operate your website. They have three hosting packages that you can choose from. Call us for pricing.
Each package offers your business more features and customizable options. There are also other features that you can install for the Woocommerce plugin at a little extra cost. Other than paying for WordPress to host your website, the Woocommerce plugin is free to install and operate.
Magento Features
For professional web developers, Magento has a strong list of features that can help you create the perfect shopping cart for your business. Each Magento platform offers different features. The more you pay, the more you get.
Key Features:

Supports an unlimited number of products.
Search Engine Optimization Tools.
Can connect with any third-party.
Multiple language and currency support.
Fully customizable template and designs.
Marketing and promotional tools.
Woocommerce Features
Woocommerce has many key features that can be beneficial to your online shopping platform. It is all around easy to use and start.
Key Features:

Clean, easy to use interface.
Has a large extension system allowing you to take full advantage of the plugin.
You can have an unlimited number of products.
Offers many free and premium themes.
Geo-location enabled taxes.
Search Engine Optimization Tools.
Magento Advantages and Disadvantages
Advantages:
Magento was built with the idea of large business in mind. It has scalability and can easily handle a large number of products. With a streamlined management system and other key features, Magento makes the shoppers' check out fast. Magento is also integrates third-party payment options like PayPal with the initial setup.
Other notable advantages are that with Magneto you get advanced security for your online shopping cart. An analytics system is also included within the software allowing you to track the overall performance.
Disadvantages:
Despite being able to handle a large number of products, if your host can't handle all the content you are adding to the shopping cart, you may come across some trouble down the line.
Another disadvantage of Magento is that it feels like it was built for more professional web developers than a regular business user. Without a team of web developers, it could take you a while to firmly grasp how this platform works. Magento could in the end be very costly — especially if you pay for their Enterprise edition. It would be worth having the resources and expertise, such as a staff of professional developers, before deciding on Magento.
Advantages and Disadvantages of Woocommerce
Advantages:
The best advantage for using Woocommerce is that aside for from paying WordPress to host your website you can set up your online store for free. Like other WordPress features Woocommerce documents all changes added, edited or removed from the plugin. This is great for management and accountability throughout your business.
The interface is completely customizable. If you are familiar with WordPress you will have no problem customizing your shopping cart to your liking or business standards. With an extensive list of add-ons and other features, Woocommerce is highly flexible and gives you plenty of room for growth.
A few other advantages worth noting is that SSL support is included with Woocommerce. Google Analytics is also integrated making it easy for you to track your shopping cart performance.
Disadvantages:
One thing the majority of business owners have with Woocommerce is the money that adds up from spending on new themes and extensions for the plugin, and WordPress platform.
Since Woocommerce is only offered on WordPress, business owners who don't use WordPress could be finding themselves spending a long amount of time learning two new platforms including WordPress and Woocommerce. The other disadvantage that may turn off some businesses from using Woocommerce is that you must purchase your own SSL certificate which can could cost you around $400 a year.
Executive Summary
For smaller Detroit businesses, we recommend going with Woocommerce site. Many businesses today are built on the WordPress platform, and having Woocommerce on your website should not be hassle implementing. It is a cheaper option that is best for beginners.
Having a Magento website, on the other hand, is better for a Detroit business with a large presence. Magento is best for a business that has a large product line, multiple stores, high profit and a staff of professional website builders who can handle the constant Magento developing updates.
Both of these e-commerce platforms will allow you to create and implement an effective shopping cart on your website. However, there are certain aspects of each platform that are tailored to the type of business you have. Depending on your business size, product line, experience with computer software and other factors should determine which e-commerce platform is best for your Detroit business.