10 Step Guide For Creating An SEO Friendly Website Design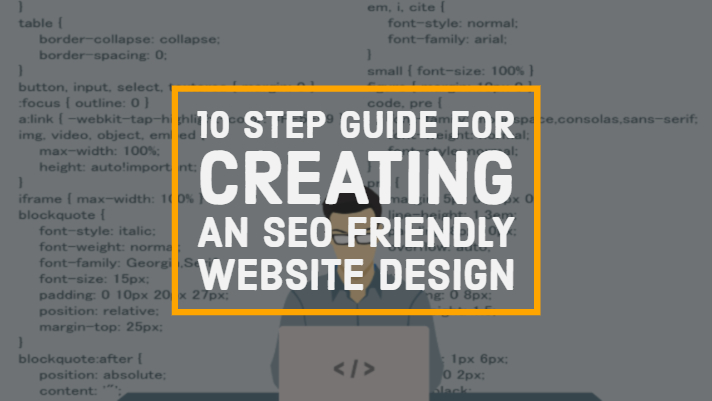 What good is creating a beautiful website if no one is ever going to see it? All the hard work put into choosing the color pallet, creating the layout, finding the right fonts, etc., are not worth it if it is never seen.
The importance of SEO friendly websites is clear. A search engine optimized web design will help search engines rank your website, which will, in turn, bring in the traffic you desire.
You too can learn how to create a search engine friendly website by following these 10 SEO friendly website design tips. With an SEO friendly design, pretty soon your website will begin climbing the search results in no time.
1.) Optimize URLs
Building an SEO friendly design for your website begins with your URL structure.
Google has stated that URLs are a ranking factor that helps determine which web pages are relevant to certain search queries. It is also worth noting that your URL structure plays a role in overall user experience. An SEO friendly URL should be able to tell the user what webpage they are being directed to.
So, how do you create an SEO friendly URL link structure?
Well it helps to draw it out. Create a hierarchy of the web pages you plan on creating. You want to organize your URL structure to include sub-folders or sub-categories. This method helps search engines crawl your website and identify what pages are associated with one another.
What you name your URLs should reflect keywords associated with what that page is about.
Side Tip: Avoid using numbers or symbols in your URLs. Stick to keywords separated with dashes.
Detroit Website Design example:
Homepage URL:
https://detroitwebsitedesign.com/
Parent Page URL:
https://detroitwebsitedesign.com/blog/
Child Page URL:
https://detroitwebsitedesign.com/blog/how-can-i-create-a-new-website/
The content on your site is by far one of the most important contributors to having an SEO friendly website. Your content should be written using HTML format, making it crawlable for search engines.
Search engines analyze every aspect of the content you upload. So, in an effort to make your website as SEO friendly as possible, there are certain aspects of your content you need to consider before publishing:
Keyword Integration
If you're not familiar with SEO, it is worth knowing that keywords are an important SEO ranking factor. In the most basic definition, keywords are the words or phrases people use in order to search online.
Before uploading any content, conduct thorough keyword research on what your content is going to be about.
Incorporate the keywords you find into your content.
Title Tags and Meta Descriptions

Your title and meta description for each webpage you create is what will show on search engine results pages.
It is important to construct your titles and metas with usability in mind while using important keywords that will help search engines identify your page.
Your title should be a bold statement, like a headline, that catches the reader's attention. Your meta should be a summary of what that page is about. Your title tag should be anywhere between 50-60 characters long. Your meta tags should be anywhere from 155-160 characters.
H1's and H2's
Your H1's and H2's are also ranking factors for search engines. All should be constructed using keywords associated with your page. These again should be seen as a headline in an effort to catch the reader's eye.
Crawl bots scan H1's and H2's to help determine your website's rank.
Images
Along with adding beautiful and authentic images to your webpages, you need to take the extra step in optimizing them for search engines. The title of your image should be a keyword phrase or keyword related. Your alt attribute for your image should describe the image itself so crawl bots understand what the image is portraying.
Content Length
SEO considers your website's bounce rate.
Bounce rate is how long users stay on your page before navigating to another page or leaving the site entirely.
Because of that, your content needs to be a certain length in order to compete with other websites trying to rank for the same keywords you are optimizing for.
However, don't just write to meet a word count. You need to create unique content that will keep the user on the page. It is proven that the longer the content, the more likely the users will create an event. This applies to any page or blog post you plan on adding in the future as well.
3.) Keep Important Information Above the Fold
As already stated, usability plays an important role in your SEO design.
People don't scroll. We have found that keeping the most important information above the fold has helped increase usability by outlining everything for the user right in front of them.
The fold is what your website shows prior to the user having to scroll.
Your main navigation, important links, call-to-actions, contact forms, etc., should all be displayed above the fold, making it easy for the user to navigate your website without any effort.
4.) Design for Accessibility
Just as buildings are ADA compliant, your website should be considered ADA compliant if your company needs to be ADA compliant. Meaning, that it should be designed with accessibility in mind. It needs to be accessible on all devices and browsers and should be able to be used and navigated by anyone.
You never want to limit your website to only a certain audience.
Designing an accessible website is a win-win. That is because this method involves adding all the aspects of an SEO friendly website. This includes adding title, alt tags, audio scripts, etc., to your website's code.
Accessibility makes it easier for search engines to crawl your website.
5.) Build for Mobile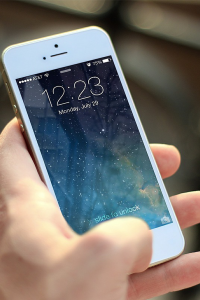 All the best SEO friendly website designs need to be built for mobile.
To no one's surprise, people use their phones for just about everything and that includes searching the web. Google and other search engines are aware of this and are focusing their efforts on creating a more mobile-friendly experience for searchers.
Google themselves, have even gone to the extent of what is called "mobile-first indexing." Meaning their crawl bot crawls the mobile version of your website first.
Creating a mobile-friendly website, also referred to as a responsive website, will help you climb search rankings.
If you don't wish to design a responsive website, it is recommended that you create a mobile-friendly version that aligns with the desktop design. You want your website to be user-friendly on every device.
6.) Limit Javascript
Make it as easy as possible for search engines to crawl your website by limiting the amount of Javascript you incorporate with your design.
The whole goal of creating an SEO friendly website is to make it easy for search engines and crawl bots to read your web content. Javascript makes it difficult for search engines and crawl bots to do this.
Javascript also doesn't respond well with mobile designs. Adding a lot of Javascript code to your website could result in more problems down the road.
7.) Optimize for Speed
The page speed is a direct factor that contributes to your search rankings.
Tying back into usability, you want people to stay on your website. If your web page takes forever to load, people will leave your website, affecting your bounce rate.
Many factors can contribute to improving your load speed. Compressing image files, videos, documents, limiting the number of elements you have on your page, all can contribute to increasing your load speed.
8.) Avoid Using Flash Elements
Although flash elements may be appealing to the user's eye, search engines do not see any value in having flash elements on your website which results in lower search rankings.
Flash elements also are a distraction and take the user away from the main focus of your page. When designing your website, it is recommended to limit the number of flash elements you incorporate on your page if your end game is to have an overall SEO friendly design.
9.) Internal Linking
Internal linking is the practice of adding hyperlinks within your web page's content. These types of links should link out to other pages on your website.
By doing this you're making a cohesive website that is all connected. Not only will this help users navigate your site with ease but it helps search engines understand your website's hierarchy and what content is related to one another.
Internal links should be implemented using anchor text. Anchor text is another keyword or keyword phrase that links to another relevant page on your website.
10.) Integrate Social Media
Some SEO strategies advise against this practice because they want users to stay on their page. However, it has been proven that linking social media accounts to your website will increase its authenticity.
Search engines see the value in your website when you add links to your social media accounts, thus rewarding your website with extra SEO juice.
Users also value social media. Associating your accounts with your website makes your website personable.
After building strong social accounts, add icons to your website. This includes all your accounts such as Facebook, Twitter, Youtube, LinkedIn, etc.